TUNG HING AIR-CONDITION WATER & ELECTRIC ENG CO.
TUNG HING AIR-CONDITION WATER & ELECTRIC ENG CO. is established in 1987 until now. With the mission of "Let the customer satisfy" is our diligent objective. In order to cause the customer understanding their respect, we could actively listen to their need, the positive response and will seek the opportunity to satisfy for their expectation. This will be provides the most sincere service for the customer with the foundation.
Now, we started for various sizes group and the chain store's customer to provide the high quality of air conditioning service such as enterprise, hotel, store, factory, office and so on. In addition to achieve the comfortable air conditioning environment for the customer, we focus on the cost of saving energy and centralize management for the maintenance service. We are precisely the professional service companie which you want to seek.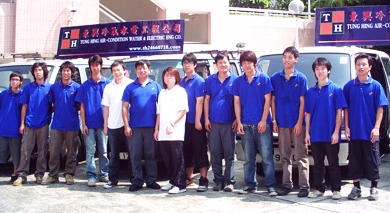 The introdution of specialized management association
Position/Department
Supervisor
Responsibility
Proprietor
Mr. Reno Ho
Establishes the proprietor of Tung Hing Air-Condition Water &electric Eng Co., who has the electric power of B0 license. He'sresponsible to manage the various project and plan the businessopeation in company.

Maintenance service department
Mr. Leung
It's responsible to provide the specialized air conditioning maintenance service for the customer including check and test the air conditioning system, specialized in cleaning the air conditioning system or equipment and provides 24 hour urgent service specially which arrive within 2 hours and carry on the inspection and the work.

Engineering department
Mr. Ou
Specialized in the various large-scale air conditioning and equipment installment of the industry and commerce such as the central unit, the chiller unit, the split-type unit and so on. In the general, the dept completes the engineering project about 2-3 days.

Administration dept
Ms. Connie Chan
Specialized of the business in the industry or commerce and the housing air conditioning , which retail for the reputable air conditioner of the brand name factory ; Relates closely with the customer, provides the air conditioning maintenance maintenance data to report and the picture analysis which gives each customer.